Australia's David Boon come into bat at the SSC,
minutes before lunch. Percy sang:
"Come on Boon,
You Tasmanian goon,
Come back soon,
before noon."
Boon actually got out soon and as furious as he often is, returned to the pavilion, cursing. Percy went up to say 'bad luck.' An irate Boon chased Percy to hit him with the bat. But Percy was lucky as Boon tripped and fell.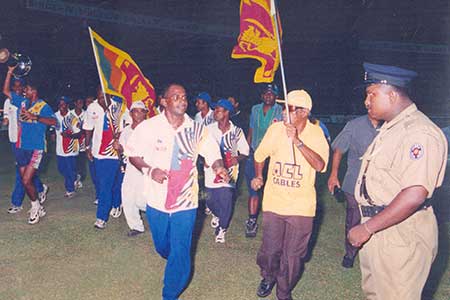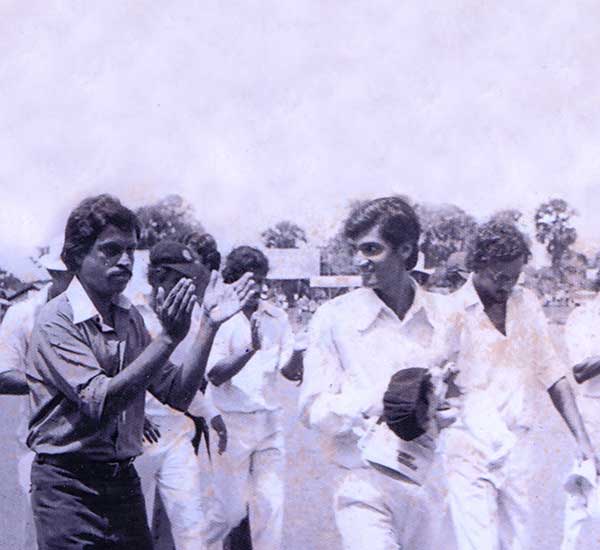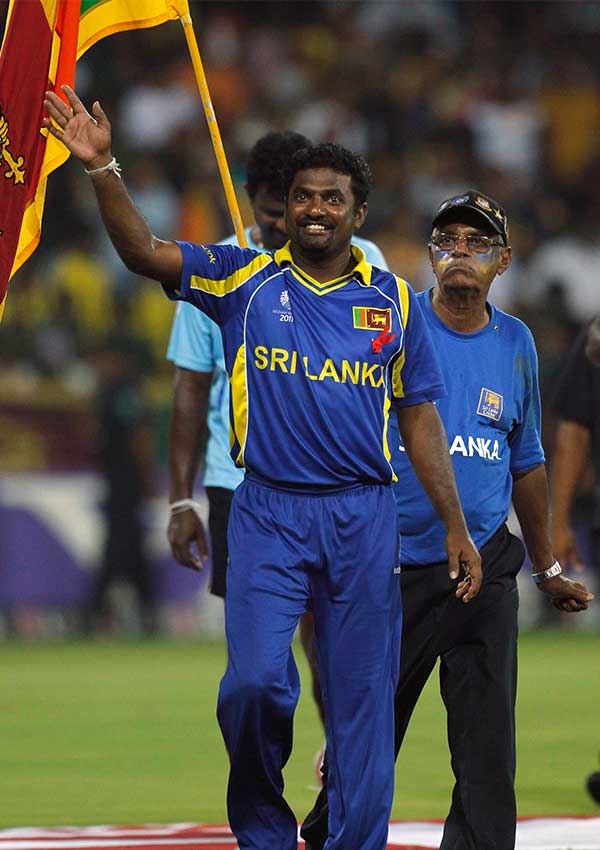 When the English spinner Jeff Cope had been attacked by the Sri Lankan batsmen at the Oval, Percy sang:
"Cope,
There's no hope,
Until you call the Pope."
England captain Greig too was at the receiving end:
"Hey Greig,
You've got your height,
I've got my might,
I will send you up like a kite,
If the air is right,
Then, I will have you for a bite,
Especially if I am tight."
Russel Arnold was having a bad patch with the bat during his tenure with the Lankan team. Percy meets him during a practice session.
Arnold says "Uncle, you are now boring."
Percy replies: "Yes, I'm boring son because you are not scoring."
To former West Indies captain Alvin Kallicharan, who is said to be an ardent lover of Calypso music,
"Let's put man and woman together,
To see which one is smarter,
Some say man, but I say no,
Woman is smarter but not so long ago"
"I had a girl called Caroline,
She called me honey boy all the time,
When I went home late last night,
She was ding dong bell with a friend of mine."
(Kallicharan later had wanted all these lyrics written down on a paper for him to read).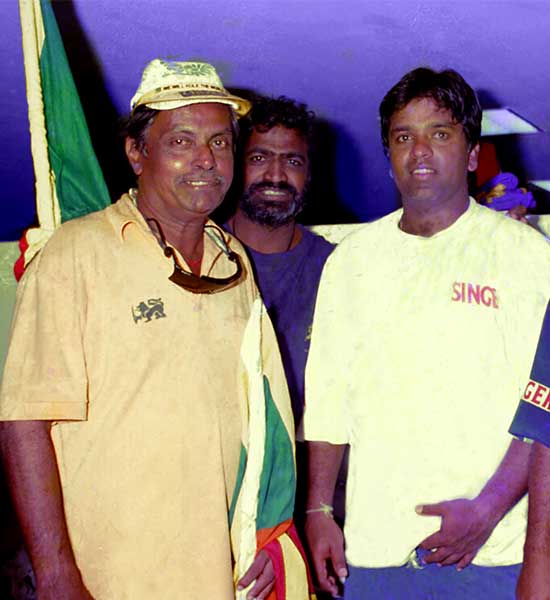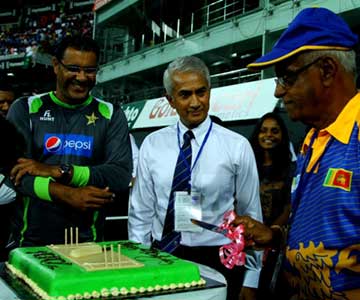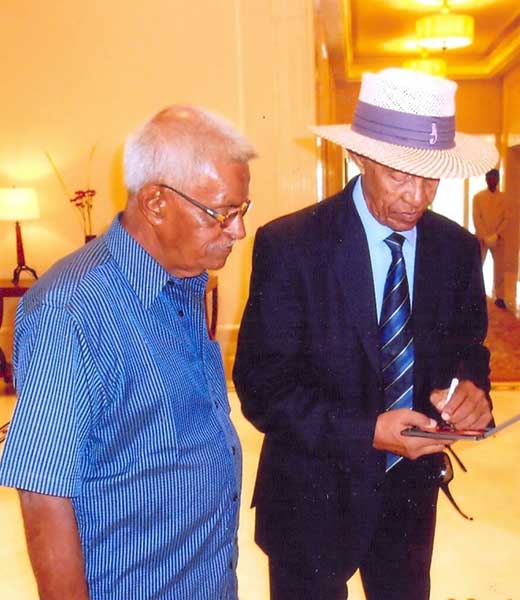 During the 1977 MCC tour of Sri Lanka under Tony Greig, Percy sings the following song to Ken Barrington. Sri Lanka was engaged in a long battle to obtain ICC Test status.
"There is long, long way for us to go, Before this tug-a-war could ever end, When the day will come, we don't know ICC sir, when can we call you friend?" "Once again experts came and told us that our cricket Standards will be just fine,
ICC sir, we have our dignity,
ICC sir, tell us no more lies."
A cricket-crazy son asks:
"Father, father what is that, Hanging like a cricket bat?"
Then the father answers:
"Sana, Sana that is what,
Which made your mama's
tummy fat (ha, ha, ha)"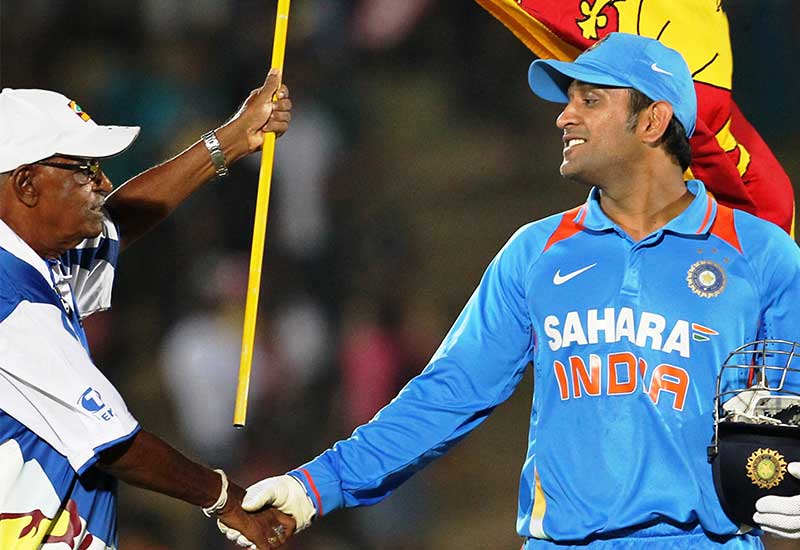 Then in 1982, Sri Lanka, after gaining ICC Test status the following year, plays her inaugural Test at the Oval. The main pavilion is filled with almost all the top members of the then government cabinet including President J. R. Jayewardene and Minister Gamini Dissanayake. The chief guest was Donald Carr, secretary of the ECB. Percy goes close to Carr and sings…
"There is a long, long way for us to go,
Before this tug-a-war could ever end,
Now that day has come we all know,
Donald Carr, sir now we can call you friend."
Percy follows saying; "Mr. Donald Carr. I don't know in which car you came. Please get up because I'm with the National flag of my motherland." Mr. Carr stands up. Percy gives him a hug and goes out to continue cheering the cricketers.
Andy Flower probably was the greatest Test batsman produced by Zimbabwe. He was in terrific form during his country's tour of Sri Lanka in 2001. Flower had made a big hundred in Colombo in the first Test and at the end of the game, Percy paid him a rich tribute with a poem that indeed would have made any great poet proud.
'Hey Andy,
You are indeed handy,
When you come to Kandy,
I'll give you brandy,
But you bring the shandy,
After brandy,
If you try to be chandi (arrogant)
And hit Murali out of Kandy,
I will make you nondi (limping).'